Since coming to the "Heart of Illinois," Bishop Louis Tylka has experienced firsthand the faith and good works of our priests, religious and laypeople, and he has listened to the people of the Diocese of Peoria. In response to what he has learned, Bishop Tylka has commissioned a pastoral planning process called Growing Disciples, with the goal of moving further into the mission which Christ has given us: to go and make disciples.
In order to renew discipleship and enhance relationships with Jesus in every corner of our region, Growing Disciples will examine the current structure of parishes and schools in the diocese to evaluate how they can best meet the needs of the faithful and address challenges facing the Church today.  
Learn more about Growing Disciples in the videos and links below.
Latest News & Updates
What did Jesus intend for all of us when he called his first disciples–and what does that mean for us as a Church today? Matt Faley Chief of Mission for the Diocese of Peoria, and Jenny Witt, Director of Evangelization at St. Philomena Parish, discuss what we mean when we use the word "discipleship," how to discern what Jesus intended for all of us, and how to live out vibrant discipleship–both in our personal apostolates and in our parishes–which is an important goal of the Growing Disciples pastoral planning process.
Father David Richardson discusses the important aspects of our parishes–aside from numerical data–that are essential to consider as we plan for the future in advancing the Five Foundations for Growing Disciples, and creating an even more vibrant, mission-driven and sustainable network of parishes.
Important Info & FAQ's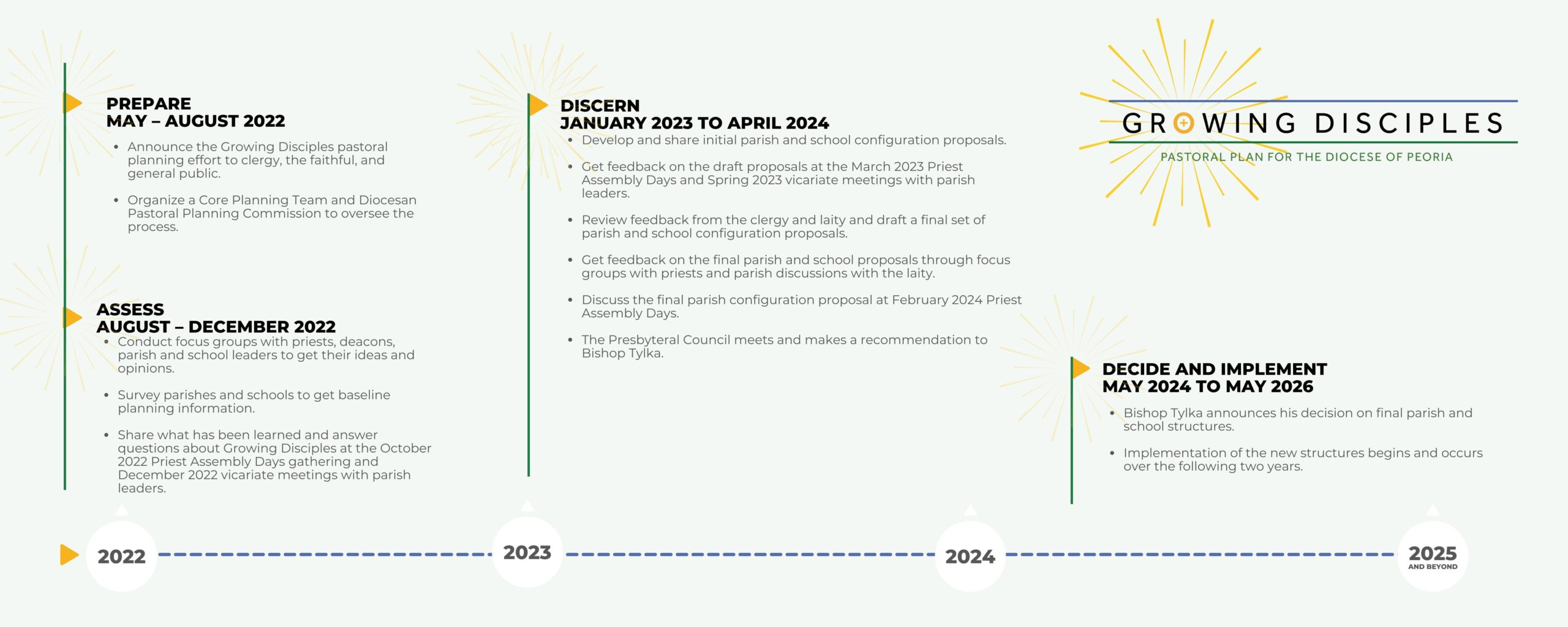 Videos
Bishop Tyler announces launch of Growing Disciples
Monsignor Mark Merdian explains the role of Key Parish Leaders, and how their feedback and insights from the parish level support the Growing Disciples pastoral planning process.
Father Chase Hilgenbrinck introduces the individuals and teams who are guiding the vision and process for the Growing Disciples Pastoral Plan in the Diocese of Peoria. View the full list of leadership team members here.
What does "evangelization" really mean, and how are we called to evangelize as Catholics? What does this have to do with the Growing Disciples Pastoral Planning initiative? In this video, Bishop Lou Tylka and Father Adam Cesarek, pastor of St. Mary's Catholic Church in Pontiac, IL, discuss their perspectives–and address common challenges and questions–related to evangelization and Growing Disciples.